2019 Arnold Classic Australia Live Stream Info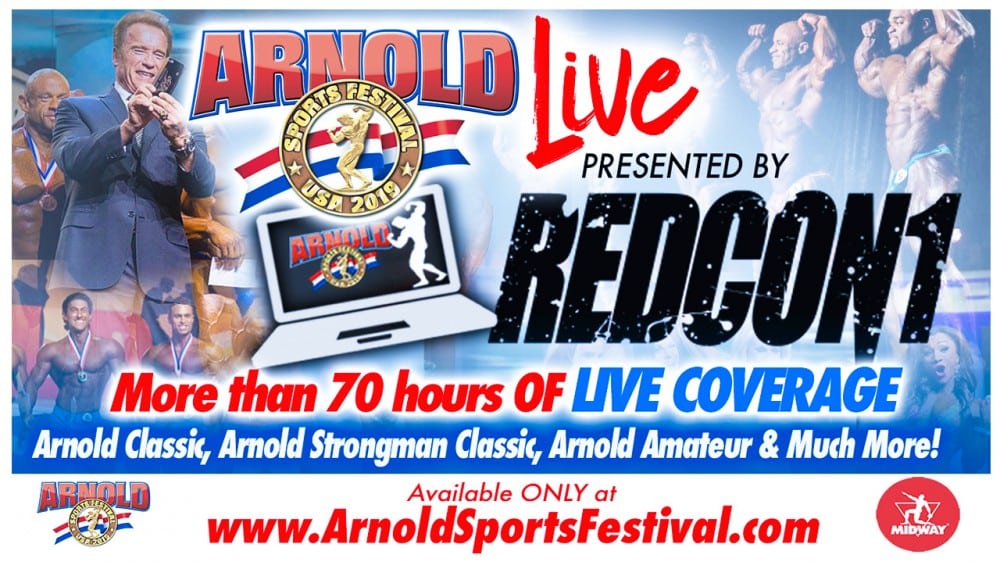 If you can you should watch the 2019 Arnold Classic Australia Live and we can tell you exactly where to watch it!
2019 ASF LIVE STREAM SCHEDULE
The 2019 Arnold Sports Festival LIVE Presented By Redcon1 will feature more than 70 hours of live streams. All competitions in the Battelle Grand and on the Arnold Fitness EXPO and ROGUE Strenght stages will be streamed in their entirety. This includes all IFBB Pro League events; Arnold Amateur NPC Bodybuilding, Fitness, Figure & Physique Championships; and the Arnold Strongman Classic.
Here you will find the 2019 Arnold Classic Live Streams and you can also find it on musclemecca bodybuilding forums.
2019 LIVE STREAM SCHEDULES
BATTELLE GRAND
Thursday, Feb. 28
Noon-8 p.m.: Arnold Amateur Ladies Day
Friday, March 1
9 a.m.-10 a.m: Women's Physique International Prejudging
10 a.m.-5 p.m.: Arnold Amateur Men's Day
7-9:30 p.m.: Arnold Classic Physique, Fitness International, Figure International & Women's Physique International Finals
Saturday, March 2
Noon-1 p.m.: Arnold Pro Wheelchair Prejudging & Finals
1-4 p.m.: Arnold Classic, Arnold Men's Physique & Bikini International Prejudging
7-10 p.m.: Arnold Classic, Arnold Men's Physique, Bikini Internation & Arnold Strongman Classic Finals
Sunday, March 3
9:30 a.m.-1 p.m.: Arnold Sunday Showcase & Coffee with the Champions featuring Arnold Schwarzenegger, Ronnie Coleman, Jay Cutler and Lee Haney
1-2 p.m.: Arnold Pop Culture Panel with Arnold, Kai Greene and Doug Mahnke
ARNOLD FITNESS EXPO STAGE
Friday, March 1
9:30-11 a.m.: Armwrestling
11-11:45 a.m.: MAS Wrestling
11:45 a.m.-1 p.m.: Fitness International & Figure International Prejudging
1-2 p.m.: Arnold Classic Physique Prejudging
2-3 p.m.: Arnold Amateur NPC Men's & Women's Physique Finals
3-5:30 p.m.: Arnold Strongman Classic
Saturday, March 2
9:30-10 a.m.: Wheelchair Calisthenics
10 a.m.-1:45 p.m.: Arnold Amateur NPC Bodybuilding, Fitness, Figure & Bikini Finals
1:45-3 p.m.: Arnold Model Search
3-5:30 p.m.: Arnold Strongman Classic
Sunday, March 3
10-11:15 a.m.: USA Powerlifting Pro Deadlift
11:15 a.m.-12:30 p.m.: ROGUE Record Breakers
12:30-3 p.m.: Arnold Amateur Strongman Finals
3-4 p.m.: Kettlebell Face-Off
ROGUE STRENGTH STAGE
Friday, March 1
9:30 a.m.-11 a.m.: Pro Strongwoman Axle Press
11 a.m.-12:30 p.m.: XPC Powerlifting Sling Shot
12:30-5:30 p.m.: Weightlifting
Saturday, March 2
9:30-10:30 a.m.: Armwrestling
10:30 a.m.-12:30: USA Powerlifting TITAN Pro Bench Bash
12:30-3 p.m.: Pro Strongwoman Finals
3-5:30 p.m.: USA Powerlifting Grand Prix By SBD
Sunday, March 3
10-Noon: USA Powerlifting APLYFT Squat Challenge
Noon-1 p.m.: XPC Powerlifting Last Man Standing
1-4 p.m.: XPC Powerlifting 21 Deadlift Salute