The Arnold Classic is back!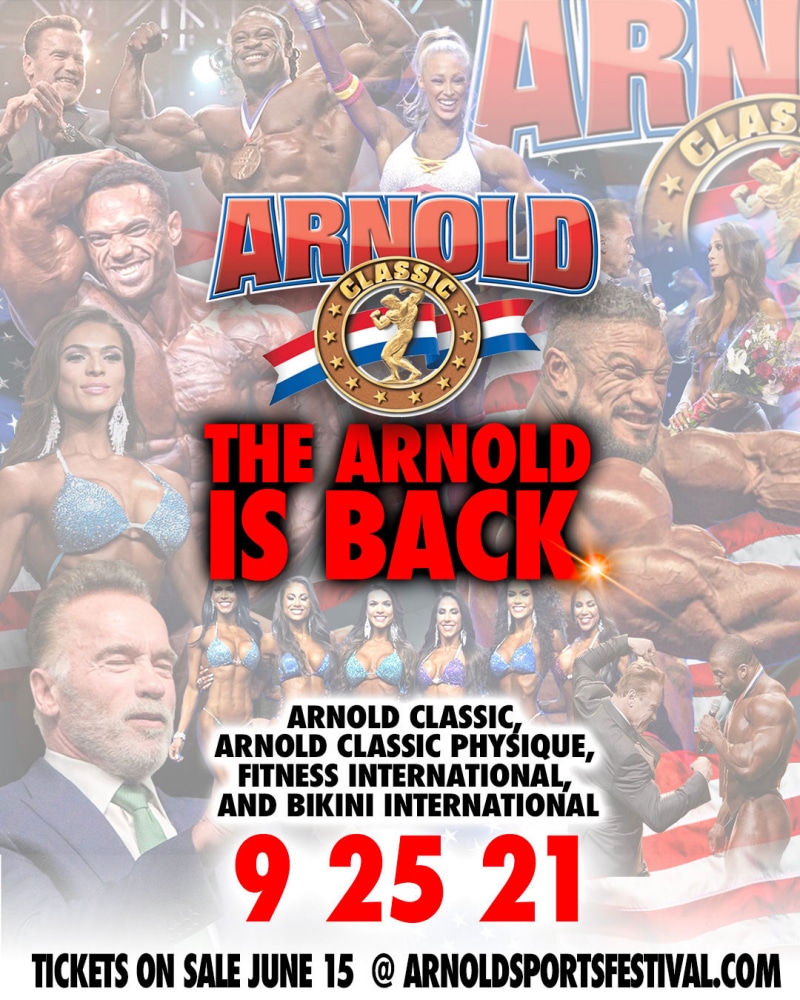 It looks like things are starting ever so gradually to get back to normal at least in the world of bodybuilding. The Arnold Classic will be coming to Columbus Ohio in September for 1 day only. As you probably know there was no Arnold Classic last year to the Covid pandemic. This year we are lucky to have it back but there will not be the huge Arnold Classic Festival we usually have that lasts for days and has many exhibitions and shows.
Here is an excerpt from the official Arnold Classic site.
The world's best bodybuilders and the fittest men and women on the planet will battle for $412,000 in prize money when the 2021 Arnold Classic and related IFBB Pro League contests return to Columbus, Ohio on Saturday, Sept. 25.
"It is important to offer full prize money at the Arnold Classic this year," co-founder and promoter Gov. Arnold Schwarzenegger said. "The athletes deserve to be rewarded for their hard work and dedication during this difficult year. We promise to make this year's Arnold Classic one to remember."
The Arnold Classic men's bodybuilding championships, held annually since 1989, is the marquee event of the Arnold Sports Festival, the multi-sport festival founded by Schwarzenegger and Jim Lorimer as a one-day celebration of professional bodybuilding and physique sports.
This year's Arnold Classic will pay homage to its roots as competitors in the Arnold Classic and three other IFBB Pro League events ¬– Arnold Classic Physique, Fitness International and Bikini International – compete for bodybuilding's most prestigious prize on the Battelle Grand stage at the Greater Columbus Convention Center.
The 2021 Arnold Sports Festival, originally scheduled for March, was postponed due to the coronavirus pandemic.
"The Arnold Classic has been held for 32 consecutive years and it would be unthinkable to go a year without providing the athletes the opportunity to compete," Schwarzenegger said. "My support of the sport of bodybuilding is enormous and, with the help of our sponsors, we are committed to making this year's Arnold Classic a tremendous success."
Five-time champion Dexter Jackson, four-time winner Flex Wheeler, three-time champ Jay Cutler and the great Ronnie Coleman are among the bodybuilding legends who have graced the Arnold Classic stage. William Bonac of the Netherlands took home the Arnold Classic trophy for the second time when he won the Arnold Classic in 2020.
In addition to Bonac, defending champions include Alex Cambronero of Miami (Arnold Classic Physique), Missy Truscott of Redmond, Wash. (Fitness International) and Elisa Pecini of Brasil (Bikini International). Competitor lists for this year's contests will be announced in mid-June.
Tickets for the 2021 Arnold Classic go on sale June 15.
The 2022 Arnold Sports Festival – including the Arnold Fitness EXPO, Arnold Classic, Arnold Amateur Bodybuilding Championships and an unprecedented lineup of physique, strength, combat and related sports and events – will return to the Greater Columbus Convention Center from March 3-6, 2022. More information will be released soon.

MORE INFORMATION
www.arnoldsportsfestival.com
Tickets go on sale on June 15! Get yours here: https://www.arnoldsportsfestival.com/usa/